Complete Painting and Wallpaper services for your home and business
We help you get the look and feel of your home or office you want and deserve
Providing Painting, Wallpaper and Cabinet Refinishing!
We will help you love how your home and buiness looks and feels
Many people call us and tell us how unhappy they are about the look and feel of their homes and or business. They don't have the time, tools or resources to fix it themselves. We are here to guide you step by step to help you improve the look and feel of your home to transform it to a place you love! We ensure your satisfaction and go the extra mile for you. With 20+ years of experience, we offer interior/exterior painting for homes and businesses in Elgin, Huntley, Pingree Grove, St Charles, and South Elgin, IL. We specialize in wallpaper installation, cabinet painting, and full repainting jobs. Our unique textures add personality to every project. Trust D'Franco Painting & Wallpaper for your painting needs. 
Learn More
Free Estimates

Virtual/Phone Estimates

Clear, Transparent, Daily Communication

Free Color Consultations

Local and Veteran Owned Business

Insured

Using the Best Paints and Materials

All Employees are Thoroughly Screened
Our 3 Step Process
Book an estimate

Find a time that works best for you and we will schedule a call, virtual estimate on a on site visit to see how we can help you with your painting, wallpaper or cabinet painting

Schedule your project

After you have said yes, and we have a deposit, we can help you select colors, then we schedule a time annd date(s) that we can start your project.

Relax and enjoy the results

We do all the work so you can enjoy your life.
Lifetime Workmanship Warranty
We stand by our work and prioritize customer satisfaction.
Clear, Transparent, Communication
You'll always know the status of your project.
Screened Professionals
Our professionals are trained to treat your house as if it were their own.
Fully Insured
We're insured! Hire D'Franco Painting & Wallpaper with peace of mind.
TOP-QUALITY PAINTING IN YOUR HOME
Interior House Painting
Your home is more than just a building – it's a reflection of you! Your personality and style.

That is why we work with you to get you the colors and finishes you want in your home. We help you take the fear out of color selections with providing you access to a free color consultant! We can help with painting just 1 room or  your whole house.
We take the time to listen to your needs and preferences and work closely with you to create a personalized plan that fits your budget and timeline to make your vision a reality. 
Learn About Our Interior Painting
QUALITY CRAFTSMANSHIP FROM START TO FINISH
Wallpaper
Wallpaper installation services are more than a buzzword! It is a form of art that we take seriously to make sure you get the right materials, the right instalation to give you a work of art in your home for years to come. Our skilled team has the experience and ongoing training needed in bringing your walls to life in all shapes and sizes, and we're committed to delivering exceptional results every time. 
We will help you choose the perfect wallpaper as well as give you the details of what it will take to ensure a seamless and flawless installation  So if you're ready to transform your space with the latest trends in wallpaper design, trust us to bring your walls to life with, You can trust Dfranco Painting and Wallpaper our exceptional installation services to make your vision a reality.
Learn About Our Wallpaper
WE PAINT MORE THAN JUST WALLS
Cabinet Painting
Your kitchen and bathroom cabients are the some of the most used ansd seen areas of your home. They are also the most valuable when it comes to sellling your home. That is why we treat your kitchen as the prized possesion it is, and a room tht should be shown off! With 15 years of proven sytems, process, and materials, we can offer lifetime warranties so you can rest knowing it will be done right. 
Whether you're looking to update your kitchen, bathroom, or any other area with cabinets, D'Franco Painting & Wallpaper uses top-quality paints and materials to ensure a smooth and long-lasting finish that will breathe new life into your cabinetry. 
We take pride in our attention to detail and commitment to customer satisfaction, and we can't wait to help you achieve the look you've been dreaming of. Let's get started on your cabinet painting project today!
Learn About Our Cabinet Painting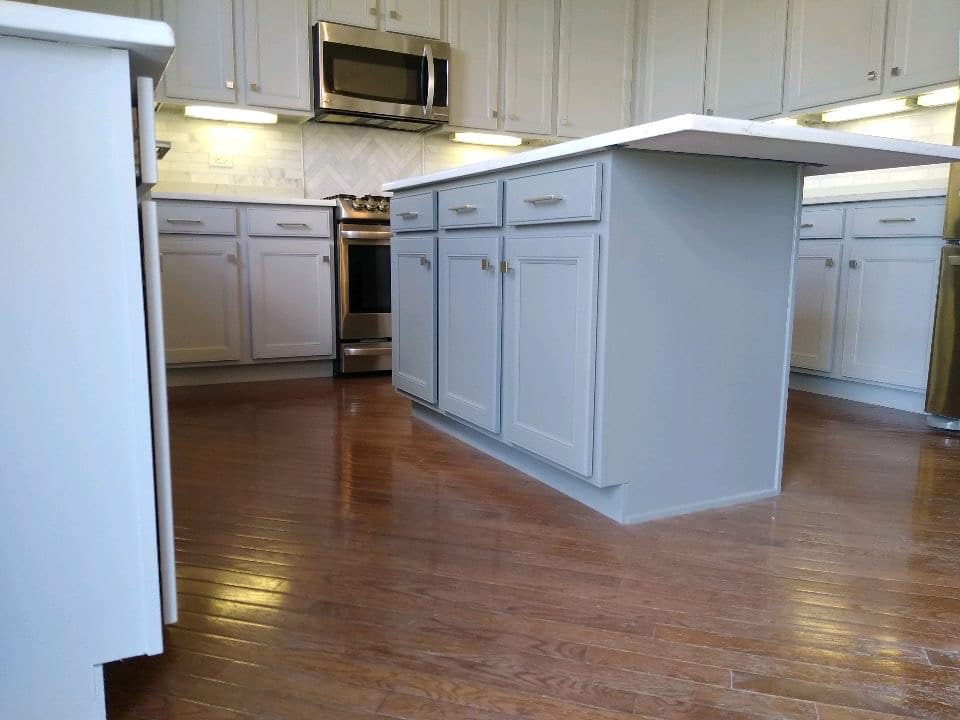 PROFESSIONAL AND LONG-LASTING FINISH
Commercial Wall Paper & Painting
Commercial Painting and Wallpaper is something that should be treated with as much detail as a home. Too often we are called to fix jobs on commercial sites due to cheap prodcuts and shortcuts to get the job done fast. At D'Franco Painting & Wallpaper, we understand that your commercial space should reflect your brand and style. That's why we offer premium wallpaper and painting services to enhance the aesthetics of your business. Our team of experts will work with you to understand your vision and create a custom plan tailored to your needs. 
We use high-quality materials and the best tools and equipment to ensure a professional and long-lasting finish that will leave a lasting impression on your clients. Let us help you transform your space into a work of art that speaks volumes about your business. Contact us today to get started!
Learn About Our Commercial Wall Paper & Painting

Watch us on YouTube
Follow us on YouTube for tips on how to make the most out of your home!
EXPLORE OUR CHANNEL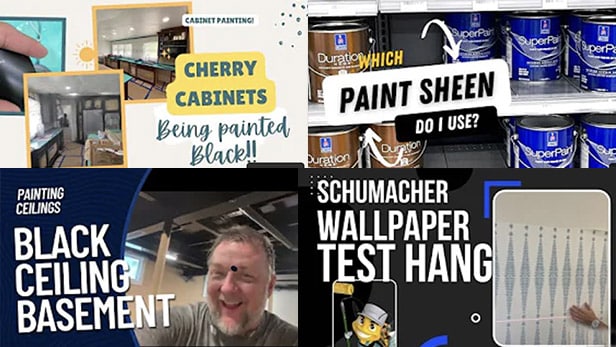 Serving over 2,500 homes in the Chicagoland area
Trust us with
your project
I gave David's crew an incredibly challenging commercial wall covering project with a wall in my home that connected the upstairs down to the basement with lots of jogs and openings. Marc, installer, knocked it out of the park! It looks absolutely perfect. These people are skilled professionals in every sense, respectful and were a pleasure to do business with. If your project is important to you and you want quality workmanship then make sure this company handles your investment.
Ron Weber
We had our two-story entry and hallways painted, as well as a two-story fireplace repainted due to water damage. Marc came out and coordinated the work in a timely fashion. The painters were Malcolm and his son, Sam. They were fantastic! So prompt, quiet, and respectful of my home. They got all the work done quickly and efficiently and cleaned up when they were finished. I am very satisfied with the work and would highly recommend them!
Cynthia Victor
I can't say enough positive things about D'franco Painting and Wallpaper! They power washed, stripped, sanded and sealed our deck with an arborcoat oil stain. Nick and Peter finished our deck in two days in 90° weather! Their work ethic is to be commended!!! Our deck was a super tough job, but D'franco is so knowledgeable in their craft! They are a very friendly, kind and professional company with an amazing staff!!! I can't recommend them enough!!!
Katherine Jordan
I hired David Cook of D'Franco to install a tricky wallpaper feature wall using some very expensive Brazilliance wallpaper. There was no room for error and I expected a perfect job. David showed up on time, was friendly, personable and professional, and the end result looks fantastic, as you can see. I'd certainly hire him again for wallpaper or painting.
Chris Beytes
We used Defranco Finishes to transform the home we had just purchased which was in need of updating. They painted nearly every wall in the house, refinished our kitchen cabinets and large built-in bookshelf, and wallpapered our powder room. It was an extensive project which took some time. Throughout the whole experience David and his team were beyond friendly, always on time when they said they would be, clean, and most importantly did a fantastic job. My wife and I would gladly refer them with confidence.
Scott Beu
Whether you're looking to brighten up your rooms with beautiful wallpaper, updating your kitchen with new cabinet colors, or making a statement with a mural, we've got you covered. See what all our happy clients have to say about our craftmanship.
VIEW MORE TESTIMONIALS
You have painting questions, we have painting answers
These Are Some Of The Questions Your Location-1 Neighbors Have Asked…
D'Franco Painting & Wallpaper prides itself on being one of the best painting companies in the area. We have a team of experienced professionals who provide quality services at a reasonable price. Contact us for a free estimate.
The cost of painting varies depending on several factors such as the size of the project, the type of paint used, and the condition of the walls. Contact D'Franco Painting & Wallpaper for a personalized quote.
A freshly painted home or business can increase the property's value and improve its aesthetic appeal. At D'Franco Painting & Wallpaper, we use high-quality paints and techniques that ensure a long-lasting finish, making it a worthwhile investment.
The ideal time to paint depends on the weather conditions and the project's scope. Our team of experts at D'Franco Painting & Wallpaper can help you determine the best time to start your painting project.
Choosing the right exterior paint depends on factors such as the climate, the condition of the walls, and the desired aesthetic. At D'Franco Painting & Wallpaper, we use high-quality paints that are suitable for different weather conditions.
The type of interior paint to use depends on the room's purpose, lighting, and desired aesthetic. Our team of experts can help you choose the right paint for your interior walls that will match your style and preferences.
Yes, before painting cabinets, we thoroughly clean and sand the surfaces to ensure proper adhesion and a smooth finish. We also use high-quality primers to further enhance the paint's durability.
Before installing wallpaper, we make sure that the walls are clean and free of any bumps or imperfections. We may also use a primer to ensure proper adhesion and to prevent any damage to the walls during installation.
At D'Franco Painting & Wallpaper, we provide painting services for a wide range of commercial spaces such as offices, restaurants, retail stores, healthcare facilities, and more. We have the experience and expertise to handle projects of all sizes and types, and we work closely with our clients to ensure that we meet their specific needs and expectations. Contact us to discuss your project and learn more about the commercial spaces we paint.
Are you ready to transform your living space?
Trust Only The Best Painting Company In The Chicagoland Region!
At D'Franco Painting & Wallpaper, we take pride in providing premium painting services to residential and commercial clients. Our team of experienced professionals uses top-quality paints and materials, combined with the latest techniques and equipment to deliver flawless finishes that stand the test of time. Whether you're looking to refresh your home, upgrade your commercial space, or add a new coat of paint to your cabinets or walls, we've got you covered. 
Don't settle for mediocre results – trust the experts at D'Franco Painting & Wallpaper to bring your vision to life. Contact us today at (847) 553-1726 to schedule your free estimate and let's get started on your painting project!
Your Free Estimate
To help home and businesses owners during this challenging time, we are offering free virtual estimates.
Fill out the form below and we will schedule a time for a free video call estimate.