One of our biggest repair calls is for cabinets that have been made in part of MDF boards.
MDF Boards
MDF, also known as Medium-density Fibreboard, is an engineered wood that combines wax and a resin binder. Applying high temperature and pressure creates the MDF board. It's often denser than plywood. MDF looks great once finished, but water is not its friend. The other form of water that does damage to MDF is steam.
MDF Cabinets and Water-based Damage
For some reason, manufacturers of dishwashers have the steam vents now on the sides in the dishwasher, which means steam is now being forced into your wood cabinets. When we work on projects, we use steam to strip paint and wallpaper. So it is no surprise that these appliances are damaging cabinets that are right next to them.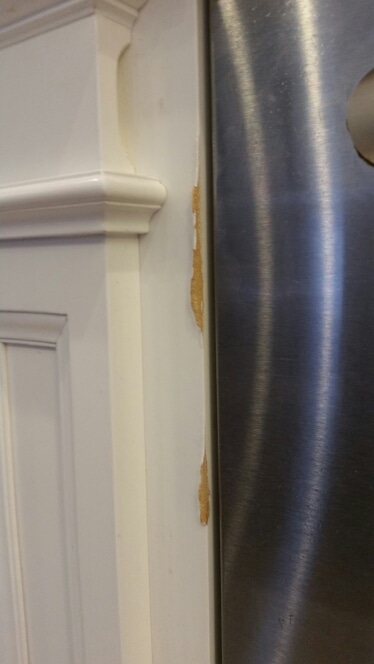 As seen from the picture above, water has removed the paint and primer of the wood cabinet. Not a good look.
To repair the water and steam damage, first, we have to cut away the puffed up damaged wood fibers. We then sand it smooth. Next, we use a solvent based primer, I like BIN shellac primer for this because it penetrates, it seals, and it dries fast. The area is sanded then primed one more time. Once dry I will use the primer for the cabinets to ensure a good bond to the surface. Then we spray it with the paint and topcoat. ML Campbell Agualente is my product of choice when possible. Love it!
Once dry we can polish if needed. Sometimes for touch-ups, a polish is needed to blend the sheen from old to new. But when finished…
It's good as new.
Let us know if you thought this article is helpful to you. We would love to hear from you!
We can also perform a free estimate for you on wallpaper installation, kitchen cabinet refinishing, and any painting or wall art services.